2014 PROJECT OF THE YEAR

First Place: Project of the Year:  Kamehameha Schools SMS Upgrade; PM: Chris 'Kapena' Gilding
In 2014, Kamehameha Schools (KS) undertook a tremendous effort to upgrade and update their Student Management System (SMS).  This project aligned with their Education Group Executives' desire to maintain a system-wide, student-centric approach to organizing, managing, and tracking student information for all KS learners in one reconciled view.  
The upgrade included major changes to the platform, schema, and user interface.  This project was essentially a re-implementation of the system as it required over 15 interfaces to be analyzed and updated, over 150 custom reports to be updated, and training delivered to over 1,000 end users.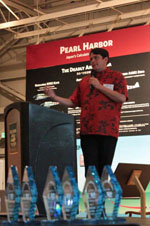 The upgraded SMS positively impacted stakeholders by:
A new user interface simplifying navigation, improving usability, and providing a consistent look and feel for end users.
Standing up new 'Community of Practices' created as forums for key stakeholders to provide input in the establishment of common definitions and agreements for the KS student information system.
Reducing duplication through earlier detection of duplicate student records upon enrollment.
Improving efficiency of entering and managing contacts through a re-engineered contact management module.
Improving SMS end user adoption by providing training (both refresher and new features) to leverage the benefits of upgrade as well as existing SMS functionality.
Providing a re-useable framework for efficient implementation of future upgrades.
This upgrade positions KS to support data-driven decision making as the entire organization prepares their Strategic Vision 2040 and Strategic Plan 2020.

Second Place: Runner-up Project of the Year: Hawaiian Electric's HRMS Upgrade Project; PM: Kevin Rasmussen  
Cited by the judges as being exceptionally well-run in planning and execution.   The HRMS Technical Upgrade project did a fantastic job across the spectrum of the PMI Knowledge Areas, in no small part due to the talent of the exceptional IT Project Manager assigned.  While the project was run out of the IT department, the very strong partnership with the liaison group between IT and the actual HR users (Corporate Services Information Systems team) made a huge difference in "tag teaming" a lot of the critical testing performed through the project.  This partnership was invaluable and is evidenced in the dual sponsors listed in this project's nomination.  The project received prioritization and backing across all levels of leadership throughout the Companies. At a high level, a few of the benefits cited for this project were:
Increased security posture of the overall HRMS 
Improved system performance 
Readiness for regulatory compliance (such as with the Affordable Care Act, OFCCP Section 503, VEVRAA)
Better testing methodology that set the standard for other IT applications to follow
Improved sign-off process allowing all Stakeholders to be  comfortable with the approach and implementation strategy through the duration of the project.
2014 PROJECT MANAGER OF THE YEAR

First Place: Project Co-Managers of the Year: Hawaiian Electric's Mark Wong and Frank Chan 
Mark and Frank were selected as the Chapter's Project Co-Managers of the Year for their exemplary work overseeing capital projects being executed by Hawaiian Electric during power plant overhauls. With extensive planning using MS Project and a custom Access database, they were able to monitor and track the project and develop Earned Value calculations, which improved their ability to identify and correct problems early, resulting in meeting the stringent timeframes and budgets for the overhauls.  Power plant overhauls reduce the capability of any utility to generate power and thus must be completed in very short time and with great attention to safety, efficiency, cost, and detail. Mark and Frank did what was necessary with exemplary skill.

Second Place: Co-Runners-up Project Managers of the Year: Hawaiian Telecom's Charlotte Sands and Kamehameha Schools' Chris 'Kapena' Gilding 
For the first time in recent history, the Chapter handed out two awards to Co-Project Manager of the Year Winners.  
Hawaiian Telecom's Charlotte Sands: Charlotte "Charli" Sands was specifically cited for her success in following the guidelines of the PMBOK for project management, as would be expected of our nominees. However, her nomination went on to state that Charli is a PM who works WITH her team such that no issues arise pushing her off schedule and she consistently beats deadlines and typically completes projects under budget.  She is one of "[t]hose are the PMs you want who can run a project within the given confines and still enjoy their family life.  Charli's leadership emerges in how she focuses on building team cohesion amongst all stakeholders even though the team itself is temporary.  As if managing her own projects was not enough for Charli, she has gone further for Hawaiian Telcom and worked to facilitate the strategic planning and portfolio management of all projects."  
Kamehameha Schools' Chris 'Kapena' Gilding: Kapena was also cited for his outstanding application of PMI's principles of project management.  His nominators went further by stating: "One of Kapena's defining characteristics as a project manager is his ability to employ a variety of communication techniques to promote project success and outcomes.  With over 1,000 registered stakeholders, strong communication skills was a 'must have'.  Kapena has a natural ability to adjust and relate to diverse personality types and communication styles which directly contributed to the project's success. His special brand of elevator conversations and quick "drive by" visits kept this stakeholder group engaged and well-informed. Kapena encouraged the use brief, fun video messages instead of standard written communication via e-mails that would have been buried alongside other e-mails.  This approach generated a lot of excitement when compared to the other methods of communication used on previous projects. Kapena also believes in balance between managing the scope and effort of a project and still finding room to flex with changing project needs.  This philosophy is especially significant on long efforts like we have at Kamehameha Schools."
Congratulations to the recipients and to all the nominees!