2021 Professional Development Week (PDW)
Five days: Nov 15 - Nov 19, 2021
Did you hear about the prizes?  $3,000 worth of prizes. 
Must be present to win!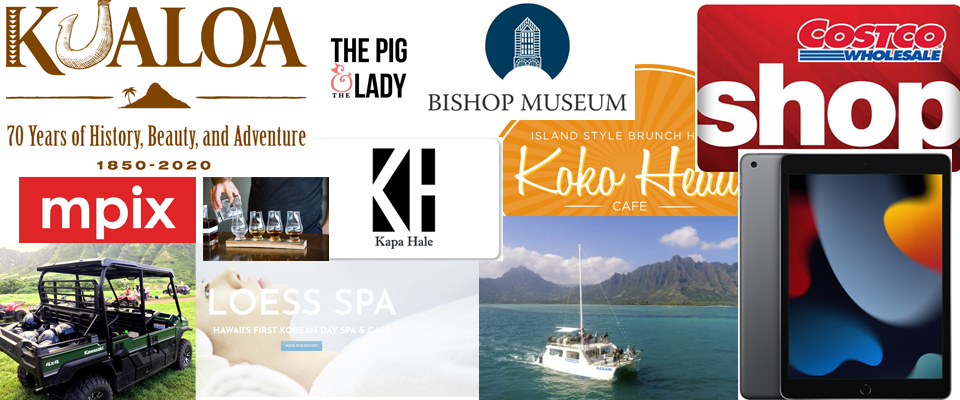 Watch Opening Keynote:  Roger Haskett introduce his topic
"Being Human in a Virtual World"
Theme
Pūpūkahi i Holomua
Unite in order to progress.
About PMI Honolulu, Hawaii Chapter's 2021 Virtual Professional Development Week Nov 15-19, 2021
Our 2021 Professional Development event is a virtual event you can attend from the comfort of your home or office!
We have 5 days of sessions and activities, with opportunity to earn 11 PDUs.
This year our event includes the Year-End Membership Meeting as well as the Annual Dinner & Pau Hana.
You may also purchase tickets to the Annual Dinner without PDW, but we hope you attend the entire week.
The sessions are spread out throughout the day at 8am, Noon, and 4pm, allowing plenty of time in between for networking, exploring the sponsor pages, and engaging in activities.
Roundtables: In addition to regular sessions, we'll have two Roundtable events to facilitate peer to peer discussion on various subjects.
SWAG:  Please register as soon as possible.  The first 100 to register for PDW+Annual Dinner or Annual Dinner will receive a commemorative SWAG bag!
Prizes: There will be contests and opportunities to win prizes!  Over $3,000 worth of prizes!  Must be present to win.  
---
2021 PDW Program at a Glance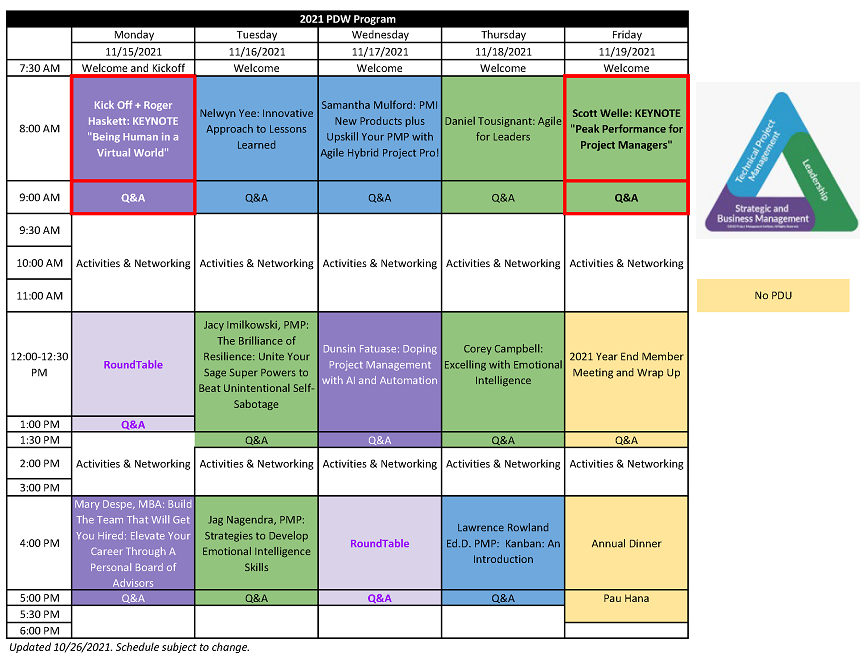 Your registration entitles you to On-Demand access for 6 months (Ends May 19, 2022)!  
On-Demand access is convenient!  Watch recordings when you want from the comfort of your home or office...but!
You'll be missing out on these great benefits:
Automatic PDU reporting.  When you choose On-Demand, you'll need to self-report PDUs.
Q&A.  Speakers will be live for Q&A after their sessions for about 30 minutes.  This isn't recorded, so you won't get the opportunity to ask questions nor see/hear any of the discussion.
Roundtables.  The two Roundtable sessions each have 9 tables with hosts to lead discussions.  These are not recorded.
Contests and prizes.  $3,000 worth of prizes will be given away at the live event for those who are present (on line).  Leaderboard and Photo contests are live only.
Access to sponsors and speakers.  There are access opportunities live online only.
Networking opportunities with participants.
Register now and join the live event as much as you can. Come back again later to watch recordings you missed.
David Ige, Governor of the State of Hawaii proclaims November 15-19, 2021 as Project Management Professional Development Week