CAPM Bootcamp - Virtual
CAPM (Certified Associate in Project Management) Exam Prep Bootcamp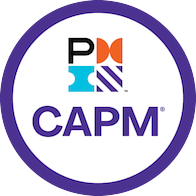 Sept. 30, Oct. 7,14,21, 2023 (Saturdays) 
Class Time: 6:00 AM to 2:00 PM Hawaii Time
Instructors:  
Highly qualified, chapter-vetted instructors from Facilitated Methods will teach these classes. 
Facilitated Methods is a PMI Authorized Training Partner for the certification courses and exams.

This course helps individuals who would like to manage larger projects and gain more responsibility or add project management skills into their current role by providing knowledge of current project management principles and terminology.   This course provides the 23 hours of specific instruction required to sit for the Certified Associate in Project Management (CAPM®) exam from PMI.  The CAPM® certification tests an individual's knowledge of the current Project Management Body of Knowledge.
Updates to the exam include:
Predictive Plan-Based Methods
Adaptive (Agile) Frameworks/Methods
Business Analysis Frameworks
The CAPM® certification is an essential first step in building a career as a project manager. After 36 months of leading a project, you can then pursue the project management certification: Project Management Professional
(PMP®).
Course Format: Lecture with discussions and sample exams Length of course: 4 days
Course Outline:
Becoming a Certified Associate in Project Management (CAPM)®
Projects and Project Management
Organizing for Project Performance
Development Approach and Life Cycle Performance Domain
Predictive Methodologies: Planning, Project Work, and Delivery
Project Work and Delivery: Getting the Job Done
Adaptive Approaches: Flexible Approaches
An Overview of Adaptive Frameworks: Agile, Lean, and More
Measurement, Tracking, and Managing Uncertainty
Business Analysis Frameworks: Aligning Solutions to Business Objectives
Business Analysis Domains: Investigating the Five Domains of Business Analysis
Conclusion
Length of Course: 4 days

Questions?
Contact professionaldevelopment@pmihnl.org for more information.
Register for this event